Matt serves as Lead Pastor at Crossroads Church. He has been serving in ministry since 2003. He holds a B.S in Christian Ministry from Shorter University and a Master of Divinity with Liberty University. Matt and his wife Michele met in college and have enjoyed 15 years of marriage and ministry together. God called them to move to Peosta with their 3 children just before COVID. They enjoy investing in this wonderful community, and exploring all that the western Dubuque area has to offer.
Scott serves as the Community Life Pastor at CrossRoads Church, overseeing discipleship, groups, and Kids Church. He has served in full-time ministry since 2005, serving on both a church staff for 12 years and leading a Christian non-profit for 5 years with his beautiful wife Abigail. Scott graduated with a Master of Theology from Dallas Theological Seminary in 2011, and he enjoys seeing people take their next step toward Christ. Scott and Abigail married in 1997 and have 4 daughters. He is excited to see what God is going to do at CrossRoads.
Pastor of Students & Crossroads Students Assistant
Jon has been the Pastor of Students at CrossRoads Church since May, 2018. He and his wife, Missy, lead a large group of adult volunteers in regular Wednesday night gatherings with students. Jon also helps disciple adult men and students in the church. Jon and Missy have lived in Dubuque for almost 20 years and have four children - all of which are active in the Student Ministry.
Brandon has been serving as the Worship Leader at Crossroads since December, 2020. Brandon has a B.M. in Vocal Performance from Calvary Bible College in Kansas City, MO, and has led worship in churches all over the country since 2007. He and his wife, Gabrielle, have 4 beautiful children and are excited to see God work in their lives, as well. Brandon enjoys: coffee, soccer, disc golf, the Houston Texans, and most importantly, helping others connect to God through worship.
Jessica now serves as the executive assistant at Crossroads Church. She is a Dubuque native and resides there with her husband and three children. They have been attending Crossroads since 2016. Jess is also involved in leadership within student ministry and community groups
Community Life Administrative Assistant
Jenn serves as the Administrative Assistant for Community Life. She and her husband, Caleb, have made the Dubuque area home for the past seven years and have three kiddos. Jenn helps support all aspects of Community Life ministry including men's, women's and community groups. She enjoys seeing the community of Crossroads grow and change.
Jacey serves as the Kids Church Assistant. She lives in Worthington with her husband Justin, and her two kids. She loves ice cream, to watch the Minnesota Vikings, play with her children, and to show the love of God to others. She loves children, Jesus, and administrative duties which makes her great for our Kids Church Assistant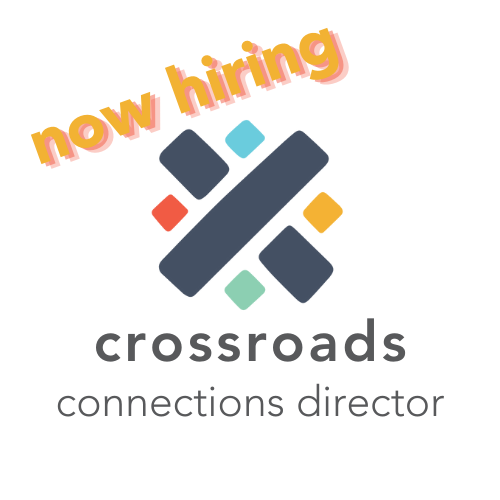 Part-Time Connections Director
The Connections Director serves in a vital role to Crossroads Church by focusing on two primary areas: overseeing all guest services volunteers and helping people get connected to the next step God has for them. The role requires both administrative skills and strong people skills.
If you feel the Lord leading you to serve our church in this capacity, please read the job description and fill out an application through CCB below.